Grooming Courses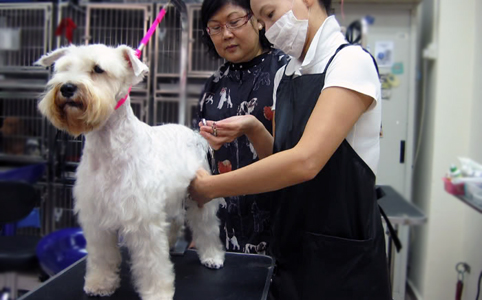 AMY ACADEMY OF ANIMAL ARTS CERTIFICATION PROGRAME
Amy Academy's comprehensive 300 hour certification programme is designed to provide the career student with the skills necessary to gain employment as a "Professional Dog Groomer And Stylist".

The certification programme includes :
GROOMING BASICS
STYLING BASICS
BREED PROFILE BASICS
To earn this certification, students must successfully complete or demonstrate proficiency for all three Phases of the certification programme.
Enrichment Courses
We are offering Enrichment Courses conducted at Nanhall Professional School of Grooming in Greensboro, North Carolina, USA.
Upon completion of the grooming course, students will be enrolled as members of IPG Inc. USA and are encouraged to start their certification by undergoing a Salon Details Practical and Written test. All successful candidates will be issued a certificate from IPG.
Enrolment Requirements
All applicants are required to be at least sixteen years of age and have a genuine love and compassion for animals.
The Full Course comes in three phases.
Courses within the Grooming Basics Program *No previous experience is necessary.
Courses within the Styling Basics Program
Courses within the Breed Profile Basics Program
At the end of the course, students will also be taught basic CPR for dogs.
THE PROGRAME
Phase 1 - Grooming Basics
Here the concentration is on Technical Skills which are the foundation for the Basics of Dog Grooming.
Technical subjects include nail trimming, bathing, drying, brushing, preparatory clipping and basic finishing techniques for the following coat types :
Short Hair
Double Coat
Long and Flowing
Curly Coated
Harsh Coated
Phase 2 - Styling Basics
In addition to Technical subjects covered in Grooming Basics, this programme includes Clipping with Blades, Snap on Combs or Attachments, Thinning and Scissoring.  Artistic concentration is on Balance and Symmetry, Basic Pattern Blending Application and Styling and Finishing Techniques for the following mixed and pure-bred dogs of the following coat and trim types :
Short / Long Legged Terrier Type Style
Poodle Sport Type Style
Bichon Frise Sport Type Style
American Cocker Type Style
Phase 3 - Breed Profile Basics
In addition to subjects covered in Grooming Basics and Styling Basics, this Programme concentrates on understanding proper breed profile, perfecting technical skills and developing maximum grooming potential. 
The following types of Mixed and Pure-bred dogs are included in this Phase :
Teddy Bear Trim
Short / Long Legged Terrier Trim
Poodle Trim
Bichon Frise Trim
American / English Cocker Trim
Course Fees
The fees for the Certification Programme is S$5,500
This does not include the necessary tools of the trade.
Grooming Tools
Andis or Oster Clipper
Andis or Oster Blades #30, #15, #10, #7F, #5F, #4F,
Snap on Comb set (Oster)
81/2"  Straight Scissors
Thinning Shears
Metal Comb
Slicker Brush
Hemostat\
Nail Clipper
Kwik Stop
Ear Powder
Ear Cleaning Solution
Grooming Smock