About Amy Academy
DISCOVER THE DIFFERENCE WITH AMY ACADEMY!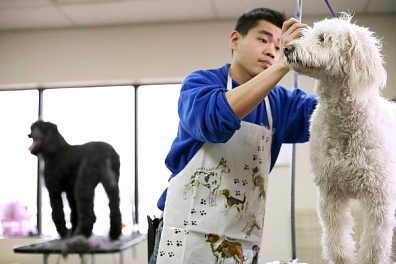 Since its inception in 1998 as a salon, Amy Academy is now a trendsetter in Pet Grooming and Styling Education.
Dog grooming and styling is one of the most important professions in the world. We take care of man's best friend.

An intricate and beautiful art form that has been practised since the 1600's. The student mastering in the art of dog grooming and styling is entering a profession that is expanding at a tremendous rate and offers endless opportunities unavailable just a few short years ago.
Amy Academy of Animal Arts - the world of Dog Grooming and Styling
Whether you are a newcomer to the Dog Grooming and Styling Profession, a Professional Pet Groomer and Stylist seeking new challenges or a Dog Fancier exploring Pet Grooming as a hobby, Amy Academy of Animal Arts has Courses and Programs designed for you.
Amy Academy takes the Grooming and Styling Education very seriously. We are committed to an everlasting commitment and responsibility to each student and to the Pet Grooming and Styling Profession as a whole. Amy Academy invites you to discover the difference!
Amy Academy courses are designed with a dedication to the advancement of the pet grooming profession, and to the concept that Graduates perform in a compassionate, professional and skilful manner. Under the direction of qualified instructors, students are taught the techniques and skills necessary for competence in the Pet Grooming and Styling Profession.
Fundamental to the method of instruction and the content of the program is the student's capacity for growth. Dog grooming is an art that requires both talent and training. Students are encouraged to bring both creativity and individual expression to the classroom. We believe that creativity coupled with a love and compassion for dogs is the key element needed for a successful experience.